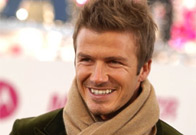 The model for male handsomeness, sex symbol and a man of women's dream David Beckham outrageously knew that his image is being exploited in an advertisement for sex pills in China, according to website Examiner. The TV commercial is featuring David saying he draws his strength – and sex drive – from a sex booster.
In the clip, the dubbed voice says, "Want to know how I can keep being strong and running on the football field? USA Selikon capsules help me a lot. It's also the secret weapon with which I can satisfy Victoria". USA Selikon is like Viagra pill. A spokesman for Beckham didn't elaborate on if David is going to stop the ad.
If that's not enough, Keanu Reeves and Sean Connery are also being used in this same way to sell the sex drug.
Here's the commercial:
Source of the image: rescindedred.com.