At the recent interview for The Los Angeles Times, Courteney Cox, 45, harked back to the good old Friends days, sharing that she goes back to them time and again with pleasure. So many emotions are linked with shooting that film, she says, remembering a freeing scene when playing "Fat Monica".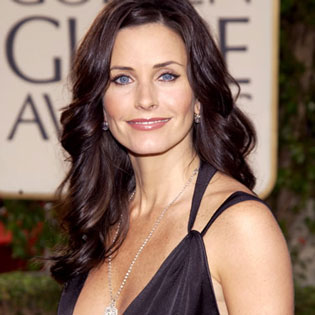 "I remember being in [Fat Monica] makeup one time waiting for the other cast members to come out, and [director] Kevin Bright put on 'Shake Your Groove Thing'," Cox recollects. "I just grabbed a doughnut and started dancing like crazy in front of the audience. I could do anything because I was hidden under all that prosthetic makeup."
Another of her memorable episodes is the one when Monica proposed to Chandler in a candlelit apartment, dropping down on her knee and coming over in sobs. It was so charged with heavy emotions that Cox still finds it touching.
Offshooting, Cox used to pick up Jennifer Aniston and go out to lunch. All the ten years they were engaged in making Friends, the actresses had lunch together… And ate the same lunch throughout this time!
They used to come in, order a Cobb salad and proceeded to experiment with it. "It wasn't really a Cobb salad. It was a Cobb salad that Jennifer doctored up with turkey bacon and garbanzo beans and I don't know what. She just has a way with food, which really helps. Because if you're going to eat the same salad every day for 10 years, it'd better be a good salad, right?"
The question of a Friends reunion was bound to come up, but in Cox's opinion, it is unlikely. It would be downright impossible without series creators David Crane and Marta Kauffman, and a number of factors would have to come together. But Cox smiled at the idea, saying "We've daydreamed about it."
Source of the image: Tunisielle.com.