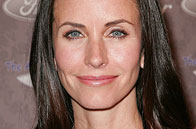 Courteney Cox has a great figure for her age, as she looks well-fit. Sport helps her maintain such body. Courteney has always preferred home fitness, such as Pilates, strength yoga, and weightlifting. Yet, the actress recently became passionate about Budokon, which has become very popular among celebrities lately.
Budokon combines elements of martial arts, yoga, and meditation. Cameron Shayne created Budokon in 2000. The practice of this sport consists of two parts – physical and spiritual training. Physical training is divided into two parts – yoga series, which is based on Iyengar and Hatha yoga, and Budo series, which consists of elements of karate, jujitsu, and tae kwon do. Mental training is done through Zen meditation. Courteney claims that Budokon not only helps her stay healthy and physically active, but also enjoy life in all of its manifestations.
Photo of Courteney Cox: justjared.com.