With Britney Spears a new album means a new hairdo, and here she is on her latest video clip, "I Wanna Go," all hued up with multi-colored hair extensions.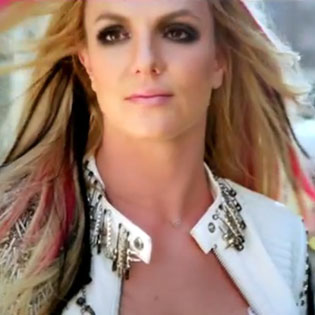 She started with pigtails straight out of school and "…Baby One More Time," moved on to "Oops!…I Did it Again" and a high ponytail; then she strutted through the "Womanizer" period in a short black wig. Now the 29-year-old singer has her third "Femme Fatale" album single out, and a comparison to an emo girl springs to mind.
That was purposeful, spilled Britney's hair stylist to Us Weekly. On the video she came out as a girl who is expressing herself violently, and it was decided that the image needed toning down.
"I Wanna Go" shows the pop star amidst a press conference with questions hurled at her (the subject of an alleged love child by Brad Pitt not omitted!) that ends in her disrupting the procedure and breaking out. There's a good-looking policeman out there who gets her handcuffed for baring her chest at him. Then she has to fight her way through photographers with a microphone as her sole weapon.
The new multi-colored rebel Britney is the result of her stylists' good job with She by So.Cap. USA clip-on extensions.
Source of the image: Billboard.