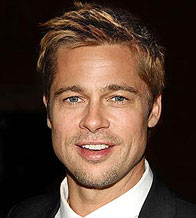 In his recent interview Brad Pit addressed the rumored "war" between Aniston and Jolie. Rumors got stirred up by Jennifer's comment in her Vogue interview, as she shared her feelings on how "uncool" it was from Jolie's side to go for a married man while working with him. Yet, W magazine features an interview with Pitt in its February issue, where he says that he sees Jen as a nice person, that that comment must be just a misleading treatment of words by media, and that overall the whole situation was artificially blown up by people.
Brad Pitt, 45, addressed the Mr & Mrs Smith (2003) question saying that people overlook the fact that the filming lasted for a whole year (even after he and Jen split up). To cut things straight, Brad once again claimed that there was no affair between him and Angelina Jolie.
Finally, The Curious Case of Benjamin Button star noted that he feels like the situation was well handled overall, adding that the film that was recently released will have a meaning to his kids.
Photo of Brad Pitt: dcist.com.