An experienced doctor can evaluate a person's health looking at his or her fingernails. With their help, you can even diagnose cancer.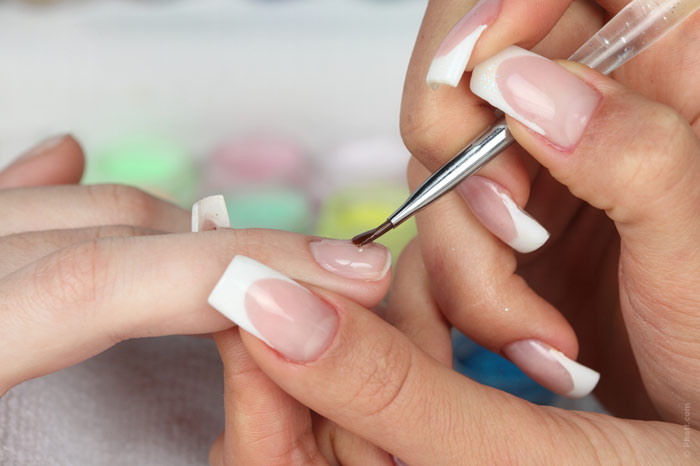 Thus, people with lung diseases such as emphysema, have thickened finger bones; their nails look as if "impressed" in the bones and have a semicircular shape. This may also be a symptom of heart disease, stomach or intestine cancer. Small ulcers or imprints on the nail surface can be an indication of eczema, psoriasis, or arthritis. Up to 50% of patients with psoriasis have such ulceration, so dermatologists are focused primarily on the condition of the patients' nails.
Horizontal parallel white lines across the surface of the nail may indicate liver disease or malnutrition. These lines indicate a low level of protein in the blood. Dark vertical lines are common in people with dark skin, but sometimes they mean skin cancer. Subungual melanoma, as seen from its name, is developed under the fingernails, and only affects one nail.
Nails curved upwards are a signal of iron deficiency. Spoon-shaped nails are also a sign of lupus. Discolored nails can be a sign of many different medical conditions . Yellow nails reveal the patients of tuberculosis or other lung diseases, brown ones mean thyroid disease or pregnancy. Sometimes a part of the nail is white, and another part is dark. This is a worrying sign testifying renal failure.
Deep lines from left to right are signs of injury or illness. They are also associated with strong physical stress. Weak nails that are poorly kept in place (if it is not associated with trauma) may be due to problems with blood circulation, as well as excessive activity of the thyroid gland, or allergy.
Paronychia (inflammation of the nail ridges) can be a signal of infections, injuries, or irritations. It is often observed in diabetes and HIV patients. Finally, red or brown stripes under your fingernails show many different problems, including infection of the heart valves.