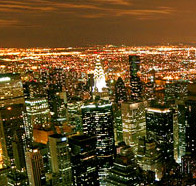 American scientists discovered that living in a megalopolis is far more harmful than smoking. The negative health impact of urban air is equal to smoking of 300 cigarettes per day. Experts at the Louisiana State University found free radicals in polluted air. These radicals are harmful to the lungs and can cause cancer of different organs in healthy people without their having other disease risk factors.
In terms of negative health impact, free radicals can be compared to cigarette pitch, scientists say. So they conclude that urban air is far more unhealthy than tobacco.
Living in big city may result in asthma, emphysema and cancer. It is free radicals that cause these diseases in megalopolis residents.