Month after month we spend in the office nine hours, five days a week. And we often skip a good lunch. When you can't leave the office to eat out so you have to snack with something from a snack vending machine or what you have in your lunch box horridly prepared at home, that doesn't necessarily mean your snack will be unhealthy. Check out 7 super healthy foods for your snack.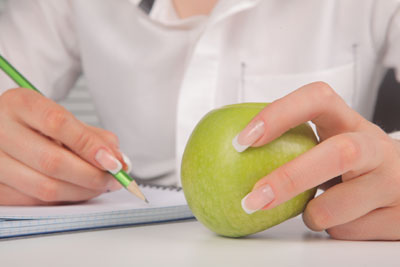 1. Almond nuts
These are great! Just a handful of almond nuts can make you feel full. Almond nuts contain proteins and iron. Eat them regularly during the day and you will manage to rein in your appetite.
2. Carrot
It is a fact that carrot helps to strengthen teeth and improve eye sight. But if crunching carrot sticks sounds a little boring to you, grad some sauce and dip your carrot sticks in it. Yummy and healthy!
3. Lettuce
Even if you've taken just some lettuce and a couple of parsley leaves from home, this will make а feel-full snack. Don't be so surprised. Throw in some croutons and add some oil and you will get a snack that is way healthier and tastier than a pack of chips.
4. Crispbread
Crispbread is better than chips! If you like to crunch, you'll be better off crunching crispbread instead of chips (it doesn't matter potato or corn chips).
5. Cherry tomatoes
It is a good replacement for regular tomatoes in case you don't like them. Cherry tomatoes are sweater and their small size makes them an interesting snack choice. Just eat these small tomatoes like you eat grapes.
6. Apples
Apples, especially hard ones, typically disappear from our diet with age. So if it's hard for you to munch on apples, you can slice them or have dried apples. Vitamin C in apples provides energy and rejuvenating effect.
7. Raisins
Combine raisings with almond nuts to get a healthy and energetic mix.
Try to follow this snack diet for just a week and you will see the difference as your waistline and hips start looking slimmer!
Source of the image: photl.com.