Sometimes we cannot afford to start living a full life just because something in our appearance does not suit us. We tend to think if our nose had been a little shorter, shoulders – narrower and hips – wider, life would have taken a different turn! Psychologists, however, have long been arguing that no considerable dramatic changes in life will happen when you change these (often imaginary) shortcomings in the appearance – it's a matter of self-acceptance. However, there are things over which one actually can and should work. So, what is there in our appearance that we must not allow ourselves to accept?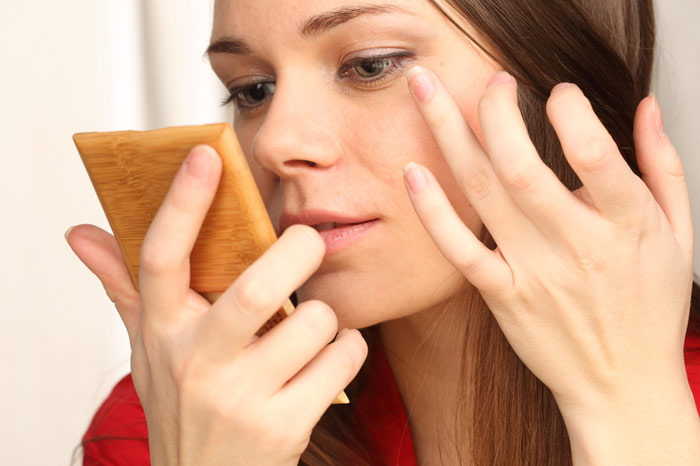 1.Stoop
While you are walking or when you sit down, the stooping back not only steals your beauty and femininity, it is also a silent sign to others: "this woman is not self-confident!" And even if you are completely confident and do not feel shy, your wheel-shaped back and lowered head are unlikely to contribute to your appeal – both external and internal.
Remember the fact that the girl with a straight back is always more attractive in the eyes of men, even on a subconscious level. Straightening your back, you will automatically have your chest protrude, the stomach and butt retracting. As a result, you will visually lose a few pounds of weight. The problem of a stooping back can be solved perfectly well due to wearing heels and doing special exercises.
2. Skin problems
Pimples, flaking, redness and other skin troubles are not a death sentence. If everything you have hitherto been using, including traditional medicine and friends' advice, does not help, then seek professional help. Dermatologists prescribe a complex treatment even in advanced cases. Having started the treatment (albeit it will take a few months), you will feel much more confident.
If the problem does not bother you so much, preventive measures still need to be taken: in particular, give up the use of smoked meat and sweets, eat more fresh fruits, dairy products, and also do not forget about clean water. Remember about the "3 pillars" of skin care – cleansing, toning and moisturizing.
3. Excess Weight
Experience shows that after 2 weeks of strict diet extra pounds will return to you during the next three weeks after abandoning restrictions. It makes sense not to expect soon results, but to work on the quality – to change eating habits, start to exercise regularly (at least 2-3 times a week). Even slight changes of habits (sports exercises or jogging), the rejection of crisps, biscuits and fried food will soon have a positive impact on the figure.
4. Lack of grooming and care
Do not ever "feed" yourself with stories that you are not able to make up the lashes without clumps, get up half an hour earlier to iron the blouse and do not say that your moulting cat should be blamed for the fur on the coat and skirt. Train to makeup eyelashes and comb them, prepare a blouse in advance or force yourself to get up for the whole day and look perfectly well, spend another 5-10 minutes in front of a mirror with a brush, but take care to have no hairs and dust on your clothes. The same rule applies to the cleanness of the shoes, the presence of small holes and threads on clothing, regrown hair roots, unwashed hair, the nail polish that has come off, uneven makeup or "a forgotten visit" to a shower.
Teach yourself to regularly inspect your wardrobe to identify stains, holes, and other troubles – for you not to get into an unpleasant situation. And ideally, iron and hang your wardrobe on hangers, having previously thought about the appearance (both clothes and accessories) – so even when in a hurry, you can look feminine and well-groomed.
Good luck to you! And never reconcile with the fact that you can fix!