The new Thanko's mouse is one of those that have given up on being mousey and play with diverse appearances. It looks like a paw – maybe not quite a cat's, but feline, sure enough. Its specifications include compatibility with Windows XP, Windows 7 or Mac OS X (it can also be connected to the old USB 1.1 interface), 800 dpi resolution and a good deal of snuggliness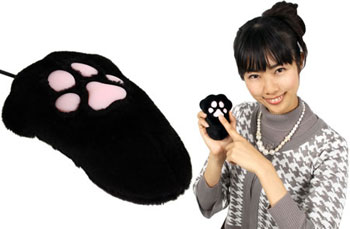 The Pow Mouse is available in Japan for around $16, measures 85 x 120 x 35 mm, weighs 20 gr. Unfortunately the design doesn't support a wheel so you will have to od without scrolling.
Source of the image: Gizmodiva.com.