Designer Stuart Hughes knows all the costliest tricks of the trade, and no wonder that he ended up creating the most expensive cell phones of the world. His blingest of the gadgets carries the price tag of £5,000,000.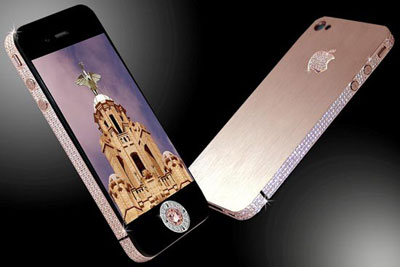 The phone is an all-over rose gold Apple iPhone 4 with a handmade bezel. It is studded with 500 diamonds and 53 more diamonds making the Apple logo on the back. The main button is an 8ct diamond a replacement for which is provided.
Actually, the only thing that Hughes may have omitted to make for this phone to make it ultimately unique is diamond minutes.
Source of the image: Blogcdn.