And what's cool about it that the gadget doesn't look so ostentatious as to appear too much like a present and therefore a little out of place with St. Valentine's Day far off and forgotten. Cute enough to convey warm feelings and draw out a smile, it is naturally colored and soft and will blend into any surroundings easily looking quietly attractive. A nice keepsake and a decent player in its own right, our Wooden Heart is.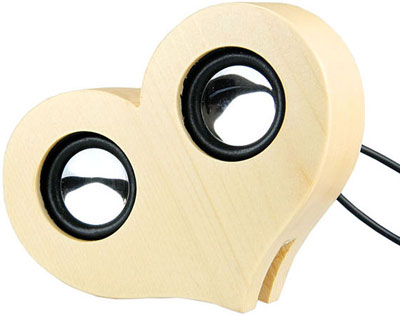 It's really made of a piece of wood hiding a purely electronic heart of hearts with the power output of 2.5W and 3W consumption. It is equipped with a 3.5mm audio plug and a USB port.
The SpeakWood Heart USB Speaker promises plenty of audio pleasures for $22 and is likely to charm your loved one!
Source of the image: Geekalerts.com.