The impressive 20-inch tabletop Vaio Tap 20 (SVJ20215CXW) weighs 5 kilos (aroung 11 lbs).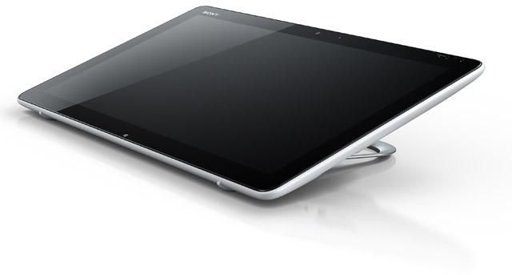 Specs:
Size: 504x304x45 mm
Processor: Intel Core i5-3317U 1,7 GHz
Screen Resolution: 1600×900
Graphics Card: Intel HD Graphics 4000
Memory: 4 GB
HDD: 750 GB, 5400 rpm
Interface: 802.11b/g/n, Gigabit Ethernet, 2hUSB 3.0, SD, NFC
Touchscreen All-In-One (multitouch up to 10 clicks at a time)
Price: $880
If you put it on your desktop, it looks almost like a normal screen. By the way, a wireless mouse and keyboard are included.
Several programs optimized for such a large touch screen, including calendar Fingertapps and graphic editor ArtRage Studio, come with the device.
The sale of Vaio Tap 20 begins on October 26, when the official premiere of Windows 8 will take place. However, a number of publications have already published a review of this extraordinary device.
As for the flaws, many observers note the low-resolution screen, and the short battery life, which is only about two hours.