HiMirror Mini Premium is a smart cosmetic mirror from the Taiwanese company, Orwellian, equipped with a high-resolution camera and a touch-sensitive 10-inch LCD screen. The device not only shows the face reflection but also gives all kinds of useful recommendations.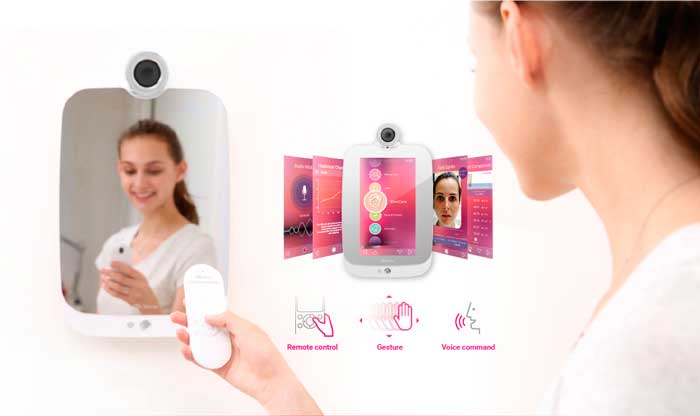 The gadget is based on the Skin Analysis Engine X technology. This service is designed to recognize the ten major cosmetic defects. We are talking about pigmentation, unhealthy look, enlarged pores, hydration, dark and red spots, roughness, dark circles under the eyes, fine lines and wrinkles. The device reflects everything it has detected.
The main task of the smart mirror is to demonstrate cosmetic facial defects and suggest methods for their elimination, as well as tips to conceal them. HiMirror shows, which outcome is expected when choosing one or another option. There are five make-up variants with a wide variation of details for almost any situation. The smart mirror also allows you to have more fun, listening to audio tracks with Spotify. To do this, there are Wi-Fi 802.11 a/b/g/n and Bluetooth 4.0 wireless modules, two microphones and two 2 watt speakers.
However, to heal problem areas, you will need information on facial changes over time. So HiMirror can be used to collect and analyze the information about its owner for a long time.
Like other modern smart devices, this beauty advisor supports interaction with network services and social networks. It is capable of redirecting data to different addresses. The gadget is worth € 259. It is expected to go on sale November 5, 2018.