Are you accustomed to keeping your cell phone lying around on your desk? Then you will surely appreciate the new phone idea conceived by Jeremy Innes-Hopkins and manufactured by Nokia. Their brainchild, the Nokia Kinetic, is designed to stand up once you get a new message or an incoming call.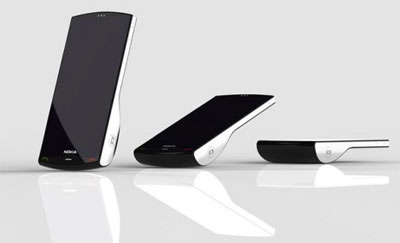 Unusual? Yes, and convenient if you want to get rid of an annoying ringtone buzzing or your phone blaring a tune upon you when you are unprepared for distraction. Besides, you can stretch your hand and pick up the handset easily without fumbling among other gadgets cluttering your desk.
The Nokia Kinetic is fitted with a thick bottom end hiding an electro-magnet that controls the balance of the thing. Once you receive a message or there's a call it begins to lift its head slowly, sending you a visual notification that your attention is required.
Tap to get it back in its prone position if you are not willing to take the call straightaway.
Source of the image: Ubergizmo.com.