With healthy lifestyle and looks being on the steep rise in terms of social desirability, it's not surprising that gadgets and devices are pouring in boasting the most convenient ways to monitor your health. In an attempt to create the best thing in health monitors, Jawbone has launched the Up iPhone accessory and a free iPhone App that watch over your energy level, sleep cycles and everything related to your present condition.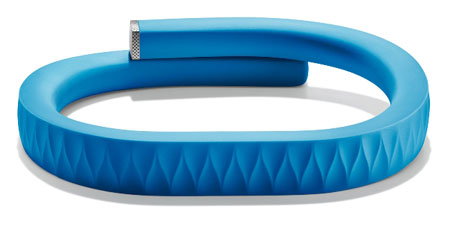 The Up iPhone accessory connects to your iPhone's headphone jack by a 3.5mm plug hidden under the rubber cap on the end and syncs in. There's a motion engine that keeps track of your steps and calculates calories, and a band that collects information on the depth of your sleep and can even decide on the best time for you to wake up according to your sleeping pattern. Also, rely on it for charting your weekly progress.
The outstanding features are the gadget's water resistance at depths under one meter, so you can easily forget about it in routine situations so far as you don't deep-dive – a mere shower won't hurt it! Besides, the Up is capable of creating a "team," that is, a friends list of your own, enabling you to maintain connections with pals with Challenges-enhanced facilities.
The band is available in seven colors (make your choice of black, brown, blue, two shades of red, silver or white) and three sizes. Retail price of the band is $100, currently to be purchased at Jawbone's official website and soon to hit Target Stores like the Apple Store, AT&T or Best Buy.
Source of the image: Gearburn.