A while later this month Gresso, luxury phone maker, will unveil its latest Luxor Series, a veritable attempt to hitch luxury cell phone a notch or two up.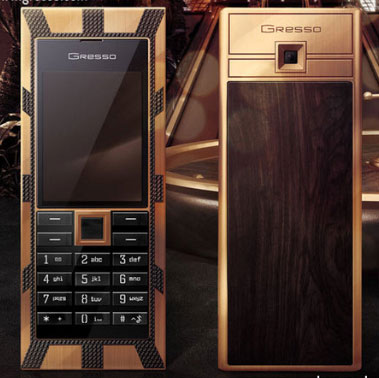 Gresso's Luxor Series will include two models, the Luxor Las Vegas and the Luxor Las Vegas Jackpot.
The utterly resplendent Luxor Las Vegas Jackpot model is made from 180g of pure gold and rare 200-year-old African Blackwood and decorated with 45.5k black diamonds. The keyboard is a luxury piece in itself, each key handcrafted from polished crystal sapphires.
These unique handsets will be only three of a kind, each costing a cozy million dollars.
The Luxor Las Vegas phone is a bit more modest gadget, ornamented with a bezel, also solid-gold and carrying African Blackwood.
The collection will be available at the price of $20,000 per device.
Source of the image: Nexus404