This hardy case is here to promise you full protection for any of your favorite gadgets – iPhone, iPod, MP3 player, handset. It's called the Eco Extreme All-Terrain Waterproof Speaker Case; it's also shockproof and sandproof and guarantees to keep your gadgets clean and shiny through your eventful vacations for the sum of $49.99.

And not only gadgets, for the inner compartment can easily store your keys, credit cards, documents and cash, extending its complete protection over them too.
The case stands upright well due to a bottom platform, although it will play your music in any position, upright or onside, open or closed. Batteries (not included) guarantee you about 30 hours of continuous music in you stay within the average volume level.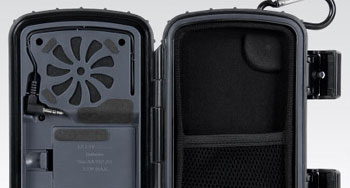 There is a pressure release valve that keeps your case watertight and allows it to open easily even at high altitudes.
You can carry it in your hands or attach an included carabineer clip and wear it over your shoulder.
And you can forget to give a start when you let the case drop – the shock resistant design will ensure the safety of your possessions.
Source of the image: Geekalerts.com.