It's not humanly possible to stand in incessant sleepless watch over your baby in his or her first months, nevertheless it's a desirable thing to do. The little bundle of joy needs attention and reaction, oblivious of your having to get on with living or sleeping. Here is a good opportunity to see about your affairs and mind the baby at the same time – with the new Fisher-Price gadget called Talk to Baby Digital Monitor with dual receivers.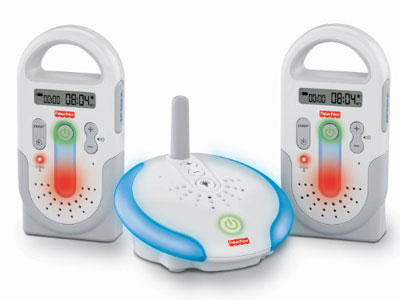 The first thing the Talk to Baby does is communicate to you the sounds the little one makes and thus keeps you abreast of current nursery affairs. You can soothe the baby or just talk from any place in the home without interrupting whatever you are busy with and having to rush headlong over just to say a few words. Accu-Clear Technology guarantees excellent clarity.
Besides the Talk to Baby has a built-in nightlight that you can switch on and off by pressing a button on your console.
Fisher-Price believe their Talk to Baby is worth every cent of its $89.99 price – and maybe more!
Source of the image: Dealnay.