Nails and smartphones are two things that are far from being compatible, and how many times you had to sacrifice your nails in order to jab at your smartphone without the fear of leaving scratches? That's where Elektra Nails come in to make the process safe for all parties concerned. The touchscreen-friendly nails are designed for all ages from 6 on, to be glued on. According to the company's rep's info, they are available at $18 for a set of six comprising stylus nails, adhesive strips and glue, prep pad, and a cuticle stick. The nails are standard gray, you are supposed to apply your chosen polish on them yourself. They are no more difficult to get on than any other artificial nail.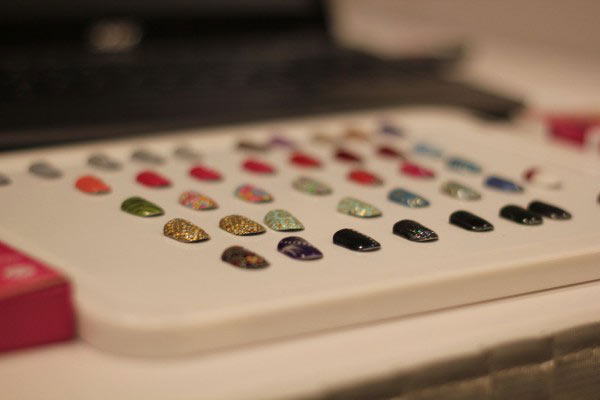 That sounds handy enough for us to rush and buy a pack, but there's a drawback you should consider before doing so – the nails must be applied to the screen at just the right angle, otherwise the phone won't be able to recognize the touch. You will have to master the right approach before you feel confident using them. The rep was definitely finding it quite a task to use the nails on a drawing app.
A nail like this is believed to hold for a week or so depending on how much you work it, so, if you choose to put one Elektra on your right index finger (or whichever finger you generally use on your phone), the set will be good for 6 weeks. There are three sizes for you to pick the best-fitting one, and you can file the nails to the length that suits you. Paint and pattern is left with you to apply yourself or get them tended by a professional manicurist.
While there are pros and cons and the Elektra Nails need some betterment to be used universally, a number of women will surely appreciate the facility to wear a fetching manicure that won't hinder them from operating their smartphones.
Another smartphone use aid from the same source is Tech Tips, a product designed for helping owners of thick fingers to hit the onscreen keyboard buttons with better accuracy. With Tech Tips you'll stop to care for gadget with super large screens.