Of course there are many fancy lamp designs for you to strike the "hey, what's this?" note in your room, but do you really want a lamp that is wacky beyond words and draws too much attention with its garish nouveau art looks? Here's a lamp that won't look at odds with any style of surroundings, yet has loads of the surprising stuff.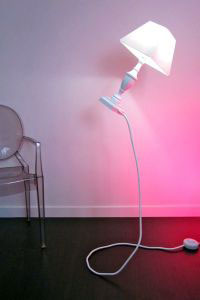 What it does is simply float in the air. No, it is not airborne, but French designer Godrik Van Deum made it look as if it were. Actually the floating lamp stands on the wire that is sturdy enough to bear the lamp's weight without looking it. Here's your quiet but nevertheless astonishing piece that will also serve well for $649. No flyer included.
Source of the image: Bedzine.