Mobile Fun's new offer is small which makes it no less useful. For those who want their gadgets to be very compact – or those who like everything miniature – they released the BlueChip VX3 mini phone. Its size is 89 x 46 x 12 mm, along the lines of a credit card, but that doesn't detract any from its capabilities. All the needful features are there: a color display, a capacious phone book, FM transmission, and support for GSM 900/1800 networks.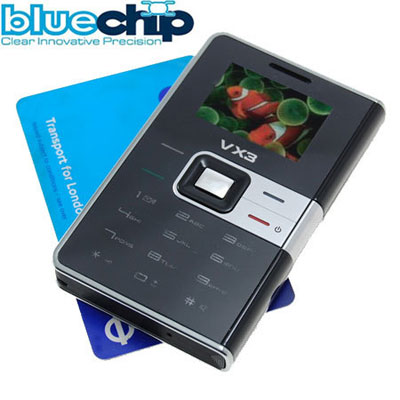 Included are headphones, Li-Ion 450 mAh battery (2-hour talk time, 100-hour standby), mains charger and a user's guide.
The BlueChip VX3 mini (to be had for £19.95) can be slipped into any small pocket or a small compartment of a bag and makes a handy second phone to use in a restricted space or carry on you when you don't want to be overburdened with things in your purse or your clothes.
Source of the image: Mobilefun.