As if Japan's high reputation concerning new steps in technology and predilection in animated characters needed any additional strengthening, they are always striving to bring those two together supposedly boosting both at once. The freshest idea in that line belongs to Bandai, toymakers renowned for their Girlz Connect and the Tomagotchi digital pet that swept the world.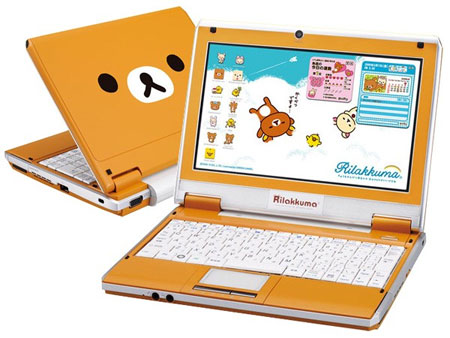 The character that has been recently wedded to computers is cartoon-popular RilakKuma, a bear very much committed to sleeping and putting down mochi. He adorns the new netbook that seems to be well on the way to being considered the most kawaii tech item that's ever been screamed over.
The netbook itself is not such a big deal having 160GB HDD, 1GB memory, and Atom N270 for the processor. The 8.9-inch screen with the resolution of 1024×600 also doesn't take it very high as netbooks go.
In fact there's a strong impression that the RilakKuma design is the thing's greatest point, beginning on the carrying case that goes with the cute netbook, proceeding to the lid decorated with the well-known pleasantly blank face (that may look rather outlandish to those who are not in the theme) and ending on the desktop. That's also supposed to uphold its another little absurdity – the retail price of $862 whereas one can easily purchase a decent netbook for $500.
It's not likely that a great deal of kids are going to crave for this cute toylike affair – considering the exorbitant price – so Bandai figured out and announced that the RilakKuma netbook will be a limited edition of not more than 500 units.
Yours is the desire for cuteness, willingness to pay the price and the import fee, theirs is one of a very limited number of netbooks that will certainly be unique in your neighborhood!
Source of the image: popgadget.net.