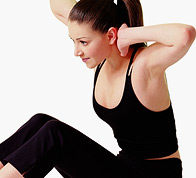 After having a baby, a woman should focus on her exercises. It all depends, however, on the woman's desire to look real good because no matter how difficult it is to allow just a little time for your own needs, it is still possible. There are lots of programs to strengthen your muscles and regain your body tone weakened after pregnancy and childbirth. To do that, you don't have to leave your baby for a few hours and go to a fitness center.
Best Time for Fitness after Pregnancy
Physicians recommend that women start exercising 6-8 weeks after vaginal birth and 9-10 weeks after Cesarean operation. Make sure you start exercising with care as every woman recovers after childbirth differently. Start with simpler exercises that do not cause negative sensations in the weakened body.
Intensive Walking after Childbirth
Gynecologists strongly encourage women to move actively as early as 2 weeks after childbirth. What they mean is not vigorous fitness activities, but intensive walking. You have to push a baby stroller a lot, and it is reasonable to use these hours for brisk walking that would help lose your weight.
Fitness Programs for Women after Childbirth
There are many programs for women after childbirth. For example, you can start yoga two weeks after childbirth, or isometric trainings after a month, or Chinese exercise system Chi Kung after just a few days. Of course, this is for healthy women with no childbirth complications. What's more, all these exercise systems can relieve the stress after birth that occurs in about 50% of women. In fact, even minor exercises are very beneficial to both mothers and babies. Do not limit yourself with just slimming diet after you had a baby. Active lifestyle is a must to lose unwanted weight you gained during pregnancy and to get back in shape.