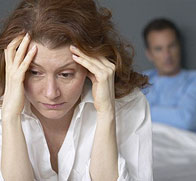 The world's first divorce caused by virtual cheating has recently happened in the UK. A woman caught her husband having sex in a game. She couldn't forgive him a virtual adultery. Amy Tailor, 28, and Dave Pollard, 40, from Cornwall, England, got acquainted in the Internet – both keen on online game Second Life where gamers could create virtual copies of themselves and then communicate with each other. This mutual hobby made Amy and Dave so close that in 2005 they officially got married – in reality.
Though the lovers knew each other through the web, it actually became a reason for their split-up. Once Mrs. Tailor was home earlier and she saw her husband having sex with a prostitute in the same game. As the woman said, it was really shocking and she couldn't believe her spouse could act like this.
"He didn't think anything of it, and I couldn't understand why it did hurt me so much. He said I make a mountain out of a molehill; he wanted to accuse me of everything, saying I don't pay enough attention to him" – the woman says. The spouses managed to repair ties. But some time later Amy again caught her husband having virtual sex. In few days she filed for divorce – in the column "cause" she wrote "disgraceful behavior".