Taiwan has witnessed one of the most unusual weddings in history. 29-year-old Chen Wei-yi "married" herself. During the ceremony, Chen solemnly put on a wedding ring, and treated her guests with a wedding cake at a banquet in honor of the wedding.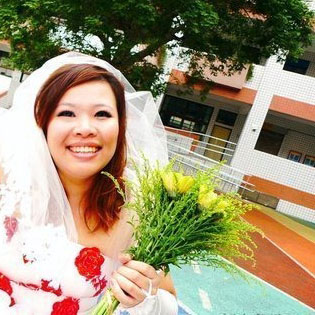 Chen held this wedding ceremony as a protest against the exerted pressure in Taiwan on women to marry. As in Western countries, Taiwanese women are increasingly marrying at an older age because they want to first get an education and find good job.
Despite this, many prospective husbands and their parents continue to believe that career and education for women are not as important as family and children.
Chen Wei-yi decided to resist this pressure. "If I'm marrying myself, it means that I promise to love only myself" – she said.
Some Taiwanese have criticized Chen Wei-yi for this move, claiming that the ceremony was arranged for wedding gifts. Nevertheless, many women from around the world have supported Chen Wei-yi's protest.
Meanwhile, the Taiwanese government concerned about low birth rates are leading a campaign to promote marriage.
Source of the image: Biggtech.