Venezuelan President Nicolas Maduro congratulated Maria Gabriela Isler on winning the "Miss Universe" contest in Twitter, calling her victory a win for the whole country.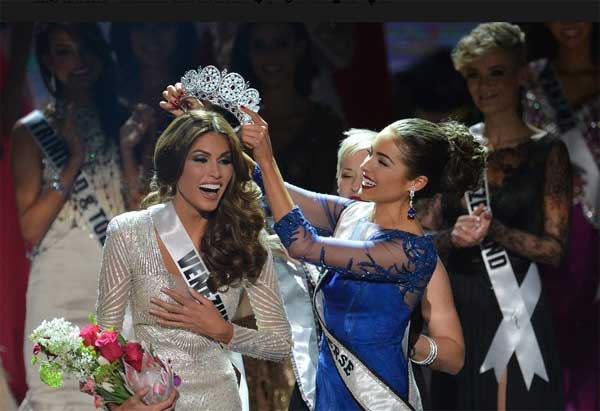 The president of the country congratulated Maria Gabriela Isler on her victory, a victory for Venezuela, and asked God to always bless her.
On Sunday night, the finale of "Miss Universe" ended in Moscow. Of the 86 participants, 16 beauties reached the final.
The representative of Venezuela won the "Miss Universe" title for the seventh time.
Interesting Facts about the Miss Universe Contest
Miss Universe is one of the most prestigious international beauty contests, which is attended annually by the representatives of 80-100 countries. The first "Miss Universe" beauty contest was held in 1952 in Long Beach (California, USA) and was organized by Catalina Swimwear, a well-known company for the production of swimsuits.
This competition was taken part by the women from 29 countries. The first "Miss Universe" was an 18-year-old representative of Finland, Armi Kuusela. The crown of the winner previously belonged to the Russian imperial court.
In 1957, the winner of the prestigious title was a young Peruvian Gladys Zender. The girl won the competition, although she was not 18 years old (which is against the rules). However, the organizers decided to keep her title because the average age of a woman is rounded 6 months after the birthday, according to the laws of Peru.
In 1960, the "Miss Universe" contest moved to Miami Beach (Florida, USA). The beauty show was supported by the famous company Procter & Gamble.
In 1972, the competition was first held outside the United States, in Dorado (Puerto Rico), and in 1973 the competition was organized for the first time in Europe, in Athens (Greece). Since then, it has been held in different parts of the world.
In 1977, the title of "Miss Universe" was awarded to the first black woman. It was Janelle Commissiong, who represented the republic of Trinidad and Tobago at the competition.
In 1998 and 1999, black women were consecutive winners of the competition. In 1998, the crown went to Wendy Fitzwilliam of Trinidad and Tobago, and in 1999 – to Mpule Kwelagobe of Botswana.
The most titled country in the "Miss Universe" contest is the USA. During the history of the competition, eight girls from the United States were able to win this title. The beauties from Venezuela are their runners-up.