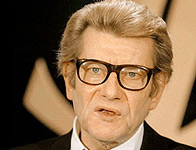 Sunday evening Yves Saint Laurent died in Paris at the age of 71. He was the most influential designer in French couture. Yves Saint Laurent was called the designer, who had revolutionized fashion. As women have been changing pending years and decades, his creations and his designer's mood have been changing with women.
He was born in Oran (Algeria), a city, which belonged to France at that time, on August, 1, 1936. At the age of 19 he started his career at Christian Dior. Yves Saint Laurent was a fashion prodigy: he won a dress contest with his innovative creatures, which drew the attention of Christian Dior, who then made Yves Saint Laurent his assistant. After the sudden death of Christian Dior 1957 he was appointed the major designer of the fashion house.
Already his first collections became the fashion symbols of the 1950s. His 1960 collection provoked a scandal among the conservative clients of Christian Dior – this collection contained such elements as pantsuits and patterned fabrics with exotic motives. 1961 he founded his own fashion house.
He was the first, who popularized ready-to-wear. He created garments, which reproduced the new position of women in the society and let women feel confident both at work and in the private life.
Yves Saint Laurent was the first living fashion designer to be honored by the Metropolitan Museum of Art. He was also awarded the rank of Commander of the Legion d'Honneur by Jacques Chirac.
Yves Saint Laurent showed his last collection in January 2002. From this time and until his death he spent much of the time at his house in Marrakech, Morocco. The designer has been in a worsening health for the last months of his life. June 1, 2008 he died from the effects of brain cancer.