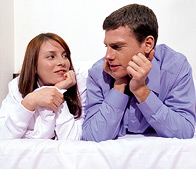 Just a few decades ago, feminists could only dream of gender equality. While their dreams have come true today, the men's view of the ideal housewife hardly changed. According the latest poll, most men want to have a "traditional" wife who would make a great housewife. As for women, they want men respect their opinion and support the family financially.
Most Important Wife's Quality
The data was received during the poll conducted by Yorkshire sociologists that involved 1 500 people. When asked – what are the most important qualities of the spouse? – 44% of men said it was caring for household, 39% said it was cooking abilities. Only 16% said it was financial independence.
Most Important Husband's Quality
When asked the same question, 41% of women said it was the ability of the spouse to respect their opinion. 38% said the most important quality was the financial state of their husband.
How Men Should Be
The most important quality of man from female perspective:
Respect for woman's opinion – 41%
Financial state – 38%
Being a good father – 27%
Gardening – 25%
The priority of the family – 22%.
How Women Should Be
The most important quality of women from male perspective:
Caring for household – 44%
Cooking – 39%
Cleaning – 33%
Being a good mother – 31%
Respect for men's opinion – 31%.
Modern Woman or "Traditional" Woman?
But can modern women be the ideal housewives for their men? Can we compromise our career and goals to please our husband and become a "traditional" wife?