YSL is preparing to launch a collection of 4 nail polishes, all of which offer three different textures to choose from.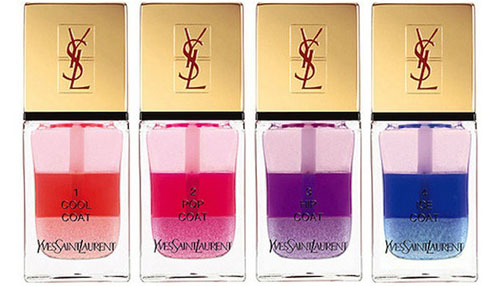 Each bottle of an innovative nail polish consists of three layers:
the first layer offers a sparkling coating,
the second one provides you with a solid color,
and the third layer is glossy.
How does it work? You can use a brush to take just the right layer and apply it on your nails. You can also mix the three layers by shaking the bottle of your nail polish – it will help you apply a rich and interesting texture on your nails.
The new YSL La Laque Couture Tie & Dye Top Coat Collection contains four shades: Cool Coat (melon), Pop Coat (fuchsia), Hip Coat (lilac) and Ice Coat (royal blue).
The new items will appear in May 2013, and the estimated cost of one nail polish is $25.