It is a luxurious new product by Stila, desired by all the girls and fans of summer parties. One can surely become a dancing queen with the lipstick that glows in the dark (or at least be noticeable on Halloween)!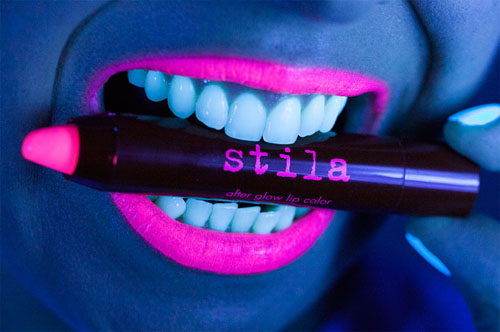 These lip liners are called Lip Crayon Glows and are produced in six shades. They take us back to the vibrant disco parties of the 1990-s.
The new lip liner can be worn not only in the evening. During the day, it is a bright shade, and only at night it becomes fluorescent. As the creators of the new product say, these shades are 3 times brighter than ordinary lip liners and lipsticks.

Such pigments look unusual and even unnatural on the lips, but in fact, the product is not just for visual effect – it is a lip care solution. The product contains seaweed extract, glycerin, vegetable oils, vitamins C and E.
Apart from the bright pink electric color (in the picture), the following shades are offered: bright purple, tangerine, pink, fuchsia, and red.