The belief that nail design remained in the past together with pearl nail polishes and the fashion for long nails is fundamentally wrong. Modern nail industry is actively developing: new materials and nail design ideas appear. This article will tell you what kind of nail design is fashionable in fall-winter 2015, what length and shape are considered appropriate for nail art, and many other things.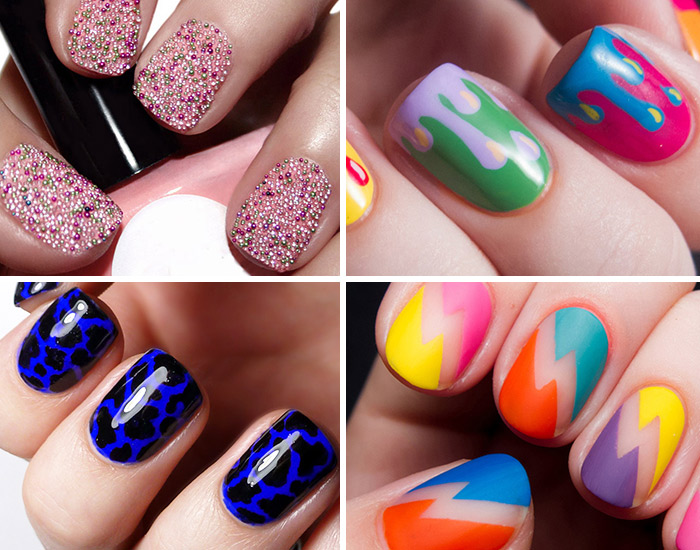 Chrome nails
Chrome nails are a real trend of this season. This type of design is created with the help of stickers that add metallic luster to the nails. Chrome stickers are silver or gold.
Negative Space manicure
Another current trend is the nail design using a variety of volumetric materials that are characterized by an interesting texture. This type of design involves metal studs, colored sequins, velvet sand, crystals, different colored coatings with added sequins, pearl and satin coatings. When used properly, these accessories can help create volumetric 3D drawings.
Moon nail design
Moon manicure remains at the peak of popularity. This type of nail art also uses glitter, sequins and rhinestones that allow you to create many unique nail designs.
This design looks to advantage in the following color combinations: pink and burgundy, silver and black, dark blue with electric, and khaki with pistachio.
Do not be afraid to experiment and create your own unique fashion nail art.
French nail design
French manicure celebrates its 39th anniversary this year, but it still remains popular among many girls. The technology of its application remains unchanged, but the palette of colors for French manicure includes new shades with every year that passes. Today, we can have classic French manicure (with white nail tips), experiment with bright colors, and try a trendy nail design with rhinestones and sequins.
Caviar manicure
Caviar manicure is suitable for those who like everything new and unusual. This nail art is also called bead nail design because glass beads are the only material needed for its application.
The technology of its application is very simple: without waiting for the nail polish to dry, the nails should be immersed in beads, prepared in advance, and then covered with a top coating.
This design can be used on all the nails or only on a few of them. Caviar manicure is a perfect solution for designing short nails, and it is easy to make at home.
Gradient manicure
Gradient manicure, or Ombre manicure, is another trend of the fall-winter 2015 season. To achieve the effect of smooth transition from dark to light colors, use a sponge.
Color solutions for this nail art are countless! To select a harmonious combination, one should use completely contrasting and related contrasting colors.
Popular length and shape of nails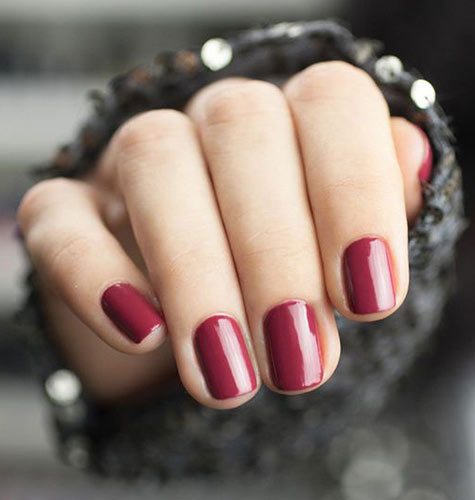 There is no universal shape that is suitable for the creation of nail art. It is individual, just as the nail design, which is chosen according to your desire and mood.
In total, there are 5 nail shapes: rounded, oval, square, almond-shaped, and pointed. The most topical shape of the nails in fall-winter 2015 is short rounded nails.
To implement some bold design ideas, the length of your nails is sometimes not enough. In this case, artificial nails will help; besides, any design will last longer on them.
Hottest manicure colors in 2015
The range of colors for nail design is very wide this season. The most fashionable fall color is the shade of strong Sicilian wine, Marsala.
The ladies who prefer classic French manicure should not worry: pastel colors of the nude palette are still relevant, ranging from beige to pale pink. Bright and creative personalities will find eccentric shades of metal ideal.
Nail design techniques
In total, there are 3 nail design techniques that will help your manicurist fulfill the most daring ideas, be it Chinese painting, a bright picture or a volumetric pattern.
Planar design
Planar design is suitable for those who love to create real masterpieces on their nails. It will help design your nails with watercolors and acrylic paints or even use the Chinese painting method! Besides, this technique includes nail design with different stickers.
Aquarium nail design
Artificial nails fans should remember the name of another design technique – aquarium nail design. While applying this nail design, glitter, sequins and various textiles are used. All materials are laid inside the nail while creating your future design, regardless of what type of artificial nails you chose – gel or acrylic. Once the nails are completely modeled and adjusted, the selected design is painted on top of them.
3D design
3D nail design is yet another technique. Its name was chosen deliberately because you can create a real volumetric pattern on your nails with the help of acrylic sculpturing, various elements and decorations. As a result, you will have a real blooming flower or a prominent 3D pattern on your nails.
Any fantastic nail design, invented by you and brilliantly realized by your manicurist, can easily be spoilt because of ungroomed cuticles or dry skin. For this reason, be sure to get a manicure before you select the original nail art for your nails. Otherwise, even the most creative and sophisticated design will not please the eye.