Some call them brushes of the future. The today's makeup brushes resemble regular brushes used by artists, but the new items are an absolutely innovative decision in both form and content.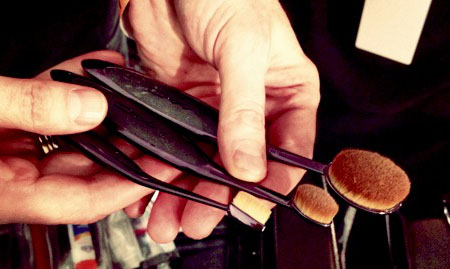 The new brushes are like ergonomic toothbrushes, rather than conventional brushes. The new items have been tested by some makeup artists at the current New York Fashion Week Fall-2013.
At the moment, MAC has introduced a line of three new brushes, but it promises that the collection will be expanded. The main task so far is to conduct an educational campaign to show the users all the benefits of a new approach to makeup brushes.
The new brushes are known to cope well with powder textures. They are applicable even to very complex makeup techniques. Their heart is constituted by super-soft synthetic fiber. Makeup artists now recommend the use of synthetic brushes, considering them to be the most convenient ones. For example, well-known makeup artist Tom Pecheux has often shared his secrets, advising not to use natural fibers for cream pigments. In his opinion, the color gets an awful hue.