Christmas makeup collections of cosmetics brands are already on the shelves of many boutiques. The photos of these collections make the heart beat agitatedly. How to live when you want to get everything at once? Here are some ways to save a considerable amount of money on the purchase of beauty products.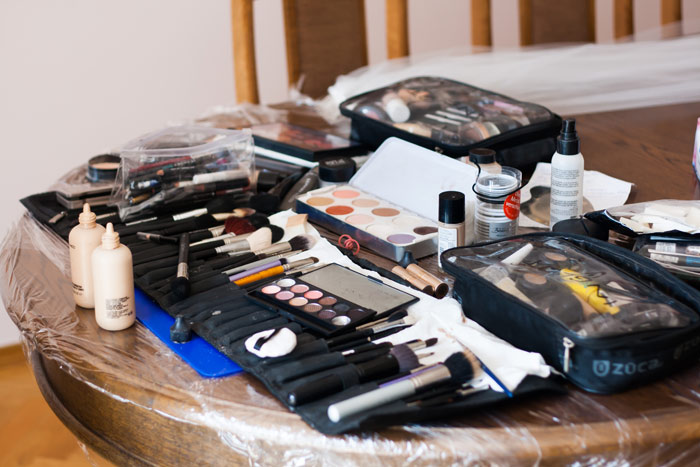 Treasured jars and boxes, new textures and colors… For some girls, it sounds worse than any spell. It is almost impossible to refrain from buying cosmetics from new collections. We are not going to dissuade you. Instead, we will help you not to waste all your money buying another tube of cosmetics.
Sign up for emails from your favorite shops
Most cosmetic shops have their own website and a system of sending letters with the information about discounts. In order not to clog the mailbox, create a separate folder for these messages or even a different address. Some letters will be garbage, so unsubscribe at once as there will be nothing good for you. On the other hand, the stores that respect their customers usually send readable brochures which can be used to find your favorite beauty product at a discounted price.
Finding a discount, do not rush to the store immediately. Buy only what you really want or really need.
Many women buy more cosmetics and keep a lot of unnecessary bottles in chests and drawers. We would like to inform at once that this case is not for us.
Collect all discount cards
Each of us has a particular list of favorite stores. It may be the service, the range of products, or the interior that attracts you and helps to relax. In this case, it is necessary to get discount cards at each store. Then you will have one more reason to come to your favorite place: you will spend less!
Some boutiques make getting a discount card very expensive and complex. Do not give up. Set aside all the beauty purchases until all your cosmetic products end. Then you can arrange extensive shopping and spend the desired amount of money.
There is another option: you can team up with friends. Make a joint purchase and then share the card.
Take probes
Instead of buying a full-sized product, try to get the coveted probe. Not all brands are happy to share them, but nothing is impossible. There are cosmetic sites that are happy to put a few probes in a basket, and many stores can sell them for pennies. With the help of mini-versions of various products you can protect yourself from disappointment.
Some brands create whole sets of probes, pack them in beautiful boxes and put them on a shelf next to full-size versions. Such a purchase will solve two problems at a time: you will get a lot of different beauty products immediately and will not spend a fortune on your female curiosity.
Participate in joint purchases
You can save not only on cosmetics, but also on paying for delivery. In addition, many online stores offer big discounts for bulk orders. In order to find like-minded shoppers, go to the communities and groups dedicated to your favorite cosmetics. There you will surely find the women who organize joint purchases to buy beauty products cheaper.
This advice is especially useful for those interested in rare cosmetics. The manufacturers of such brands often make the delivery of their products very expensive. It certainly makes sense to find a friend and make your order together, sharing the extra cost for shipping.
Be interested in sets
Gift baskets are especially popular before the holidays and can be a good way to save money. Pay attention to the boxes, which combine the products of one brand or contain really good cosmetics. Two or three products are usually packaged as a gift, and so they are cheaper than the same products sold individually.
Do not buy sets which contain only one beauty product that you need. Either you win much money or get nothing.
Most winning combinations are usually found among makeup: manufacturers successfully combine their products, offering practical sets.
Use the power of Facebook
And other social networks. It is not a secret that good brands use their Internet websites not to publish the advertisement, but to communicate with their customers and send them all the necessary information. If your order is lost or you are dissatisfied with the quality of the purchased cosmetics, feel free to write directly to the company. Even if the brand ignores your message, it will draw the attention of other people, and you will be able to work together to solve a problem.
Referring to a particular company, describe the situation fully, honestly and in detail. Then the question of a refund or replacement of the product is likely to be reviewed quickly.
Read beauty bloggers
However, if you are a shopaholic, it will be a little harder to follow this advice because pictures of cosmetics cause a desire to buy everything. Take the most of beauty blogs. Keep a collection of the most successful and interesting products. Return to them when you discover a discount. Many beauty bloggers publish promotional codes or the information about promotions and reveal the secrets of shopping abroad.
Trust the blog if it has been online for at least six months. New writers can disappoint you with their reviews. The problem is simple – lack of experience. The "veterans" of beauty industry understand the characteristics of a particular skin type better, are well aware of the updates to best-sellers, collaborate with the top brands of cosmetics and provide detailed answers in the comments that may be helpful.
Making something with your own hands
If you doubt about whether you need a tenth jar of body scrub, try to make it yourself. Clear and simple recipes are very easy to find on the Internet. They often include the ingredients that can be found in every home. They are both cheap and nice.
Creating homemade cosmetics, be sure to check the ingredients. It is important that none of them causes an allergic reaction. The strongest allergens are cocoa, honey, coffee, and citrus fruits.