Essie announces the release of the magnet nail polish collection. The nail polishes will be distinguished by an affordable price, an interesting palette, and the unusual effect of the snakeskin coating.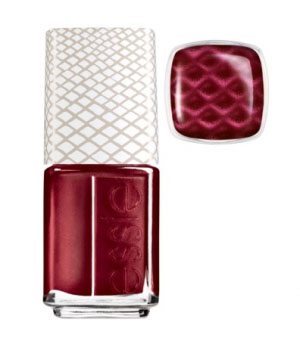 In anticipation of 2013, which is the year of the Snake according to the eastern calendar, the new products become especially important.
Magnet nail polish is hardly an innovation, the technology has existed for a few years. Now almost every reputable brand produces its own magnet nail polishes. Let us recall how they work: the nail polish contains iron powder, which reacts to a magnet that is usually built into the lid of the bottle. You apply the coating, and then hold the magnet plate close to the nails in order to get interesting patterns.
Essie has released a special magnet novelty, this is the line of nail polishes called Repstyle (the term is the result of blending two words: "reptile" + "style"). The magnets are made in such a way that there appears a snakeskin pattern on the nail. 6 metallic shades are going to be offered.

Snakeskin nail design is very popular. Dior has made their "crocodile" nail polish for the Fall 2012 collection. Not long ago, a snake pedicure (for $ 300) became the top offer introduced in salons last year. All of this goes to say that the new idea of Essie will be relevant in the near future. The new items will be available in December 2012. Magnet nail polish is not much more expensive than a bottle of the brand's usual nail polish.