We continue to prepare for the autumn together with the leading cosmetic brands. Today, we'll take a look at the makeup trends for the upcoming season, along with the new collections by Dior, Chanel and Givenchy.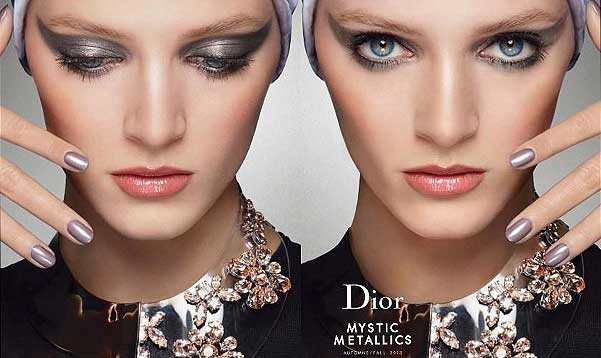 Dior Mystic Metallics Makeup
The House of Dior offers to make fall mysterious and to give it a metallic glint. The new make-up palette is called Mystic Metallics. It includes a cream shade, compact cold metallic shades and two kinds of nail polish – classic, with a pearly overflow, and magnetic (forming free artistic designs under the influence of a special magnet).
Chanel Moire Le Rouge Makeup Line
The Chanel brand loves classics and almost always remains loyal to it. One of the fall collections – Moire Le Rouge – is a delicious combination of classic lip and nail colours: red, pink and purple – in the traditional black and gold packaging.
Givenchy Makeup
The Givenchy brand produced two collections for autumn. The first is softer, the second is bright and fatal. Both were presented by a longtime muse of the brand – model Mariacarla Boscono. In the muted pastel tones make-up campaign she appears as a blonde, but the promo palette that includes blue, graphite, and red, required her natural dark hair.