It's not a good idea psychologically to keep things bottled in, so here is the way to bottle your feelings out. Those who like to wear their hearts on their sleeves are bound to take to wearing their moods on their hands. Not with rings, though, that's old stuff. It will be cooler by far when your nails begin to relate to your mood changes.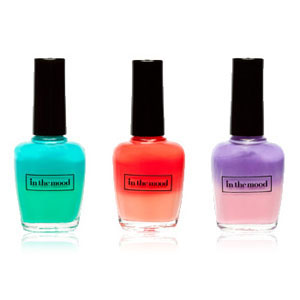 Of course we know that when we say mood we actually mean temperature, but the new nail polish that will tell everybody what your finger temperature is, is called In The Mood. Our normal temperature of 98.6 gives us 91 degrees in the fingers that are always cooler, so it is at 91 that In The Mood begins to change its hue. To enjoy the extremes of the color spectrum you will have to dip your hands into hot or cold water and watch the reaction, but hopefully the polish will be hovering somewhere around the middle during your everyday moves.
Getting your mood on your fingers will cost you $8 a bottle. There's a choice of nine two-toned shades.
Source of the image: Styleite.