Almost every year new records are set as for the price for perfume, lipstick, nail polish… New collections are being produced, new auctions are being held. Meet a very expensive novelty from AZATURE.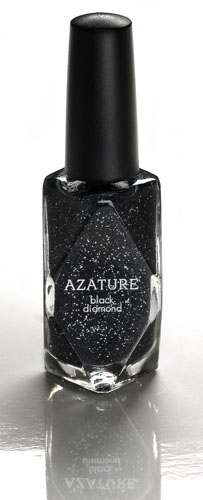 AZATURE is a famous jewelry brand in the world of luxury and splendor. Now, this luxury brand has been introduced to the area of beauty.
AZATURE is also called the "king of black diamonds", The brand decided to confirm the title once again releasing a Black Diamond nail enamel.
Today it is the most expensive nail enamel with the price of $ 250,000. The exclusive product contains real black diamonds (267 carats). The edition is so unique that it has been created as a single copy.
However, the fans of Black Diamond will have the opportunity to try it because AZATURE created a more accessible version of the enamel costing $ 25 for a 15-ml bottle. This enamel will be sold from the beginning of August 2012.