Isn't it true that your hair becomes too dry or sometimes too greasy when you are traveling? And, the scenario becomes, even more, worse when your hair gets adversely fragile and vulnerable because of the dirt, wind and last but not the least your own oily fingers. Right?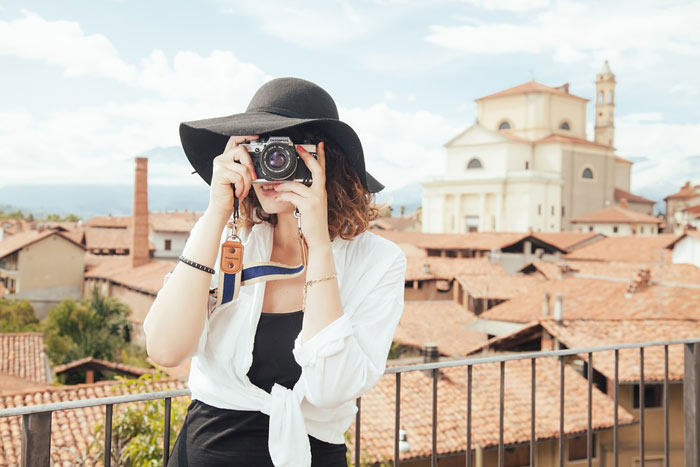 Well, I, personally, used to face such a problem on my way to the yearly vacations. And, the ugliest outcome that I had to experience is nothing but landing up at the destination with an absolutely ghastly look!! Actually, that was the time when a question used to always arise in my mind.
Know what? Here's it:
How to assure that my hair stays somewhat spick and span while I am out for a trip?
Moreover, in relevance to such an aspect, it might seem to you that a tidy ponytail will be really an alluring idea! But, practically, won't you just fret if you have such a hard knot collapsing the back of your head during the whole trip?
So, I feel that the ideal hairstyles while traveling ought to be the ones which can keep your hair secured and in the meantime let you feel comfortable also.
Thus, here I am with a list of four most astounding hairstyles which I have opted for during different voyaging episodes of mine. And, Believe me, I found these just perfect to rock before embarking on the protracted and meandering caravans.
Just take a glance over!
1. Top Knots
Top Knots can be one of the most stupendous options for you if you don't want to let your rapunzel-esque hair to get drastically torn off while combing after the trip. You can just opt for this fantastic hairstyle and keep your locks on lock while you are traveling.
The best part of this particular hairstyle is that it sits too high up on your head. And, thus you will not certainly end up messing them irrespective of the fact that either you are driving or just chilling out as a passenger.
Want to check out how does it look? Have a glimpse of the image mentioned underneath!
2. An Upsweep hairstyle
An Updo or Upsweep hairstyle will again let you arrange your locks high above your head instead of letting it drop liberally. Moreover, this hairstyle is genuinely stylish and ravishing. So, you would certainly manage to look absolutely stunning while keeping your hair arranged.
Moreover, this hairstyle will help you to keep your hair out of the way always and thus it will let you enjoy your journey while being perfectly sans Souci!!
Want to take a glimpse of the upsweep hairstyle? Well, here's it:
3. Fishtail Braid
Who doesn't know about Fishtail braid? But, have you ever thought that how fantastic can it be while traveling? Yes! It's really awesome! Such a braid is simple, chic and safe. Well, this can be an ultimate explanation for a fishtail braid.
One of the best aspects of a such a braid is that it can be undone very conveniently after you reach your destination. There will be no entangling of your hairs!! Also, on doing so, you will be instantly able to relish checking out some fabulous waves in your hair. You can find some handy hairstyle essentials that are helpful while traveling at CouponsMonk with the best price.
Wondering how to make it? Well, it's too simple! You just need to pass thin sections of hair side by side and tug on it for creating some extra volume. That's it! You are ready with a superb fishtail braid for your journey.
Just take a look at the following image and you will get an idea how nice it looks!

4. Low Pigtails
Do the unmanageable locks make you insane all the time while traveling? Then, you ought to certainly go for the low pigtails! If you haven't tried this yet then you might not be having an idea about how amazing it can be to control your unruly hair while you are out for a trip!
This cute and gorgeous hairstyle will let your hair to remain shackled all the way while keeping it out of your way for the entire journey. Thus, you can just enjoy the breathtaking sceneries without worrying about how your hair is going to react!!
Look, how neat and amazing this hairstyle is!

Wrapping Up
So, next time, whenever you are on a road trip or cruise, never go crazy with the entangling hair of yours!! Just opt for any of these fruitful hairstyles and thus you will look well-groomed and stunning all throughout your way.
Also, don't forget to conceal your hair from the sun while you are out for a trip and continue brushing it more often. Last but not the least, always keep a good hair-moisturizer or oil in your purse that suits you best. It's because, during a journey, your locks will have a great chance to get dried off and start drifting vigorously!
Author
Clara Decker is the free time writer and full-time internet surfer. She likes to work on making in-home life better in society. She lives like an entrepreneur to support her husband at the month ends.