It is difficult to remain calm while describing this collection. It's a real masterpiece! Emerald, turquoise and aquamarine hues combined with bronze and brass take us back to the days of ancient Egypt. A woman who has had at least one article from the new collection of ArtDeco Glow Bronzing makeup can conider herself to be an Egyptian queen.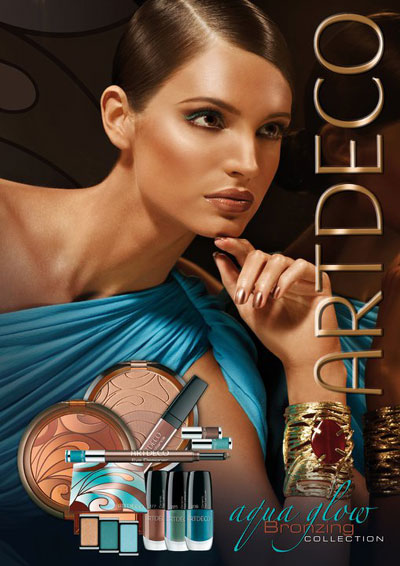 There are a large number of aquamarine hues for eyes and nails, and all of them are pure and original. Perhaps such clear turquoise and azure colours have been presented for the first time during the upcoming summer season. And a combination of shades of sand and the blue sea is a real summer harmony.
The collection includes the following makeup products.
Bronzer powder, compact in design package. Equipped with an SPF 15 and "water-resistant". It exists in two shades: Sun Glow Bronzing and Sunset Bronzing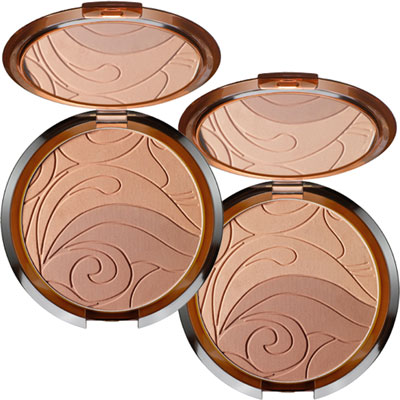 The "Kabuki" brush is for the powder in travel format.
There are shadows, and a lot of them. There is a limited edition of boxes with triplet shadows (some of the shadows are used as a rouge). There are two shadows. There are six shadows as an unmatched design package. There are powdery hues with beads of two colors inside, and powdery hues with a mother of pearl.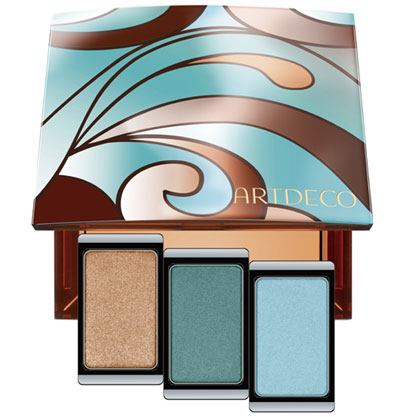 There is something even for the eyes – a product called "Applicator." This two-sided "pencil" has a creamy texture. On the each side there is a liquid shadow pencil with an applicator. There is a set of cartridges of different colors:
20 Hot Espresso
34 Shimmering Gold Mine
54 Cobalt Turquoise
60 Green Lagoon
62 Moons Reflection
68 Deep Atlantic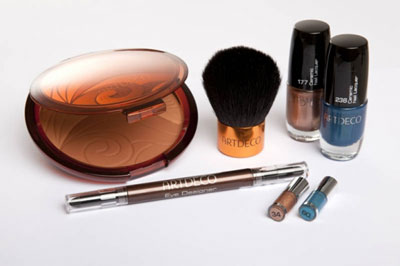 Nail polish, or the so-called "ceramic", is with nanoparticles of ceramics for exceptional durability and smooth structure. It presents very beautiful shadows:
177 Pure Bronze
179 Shimmering Ivory
225 Rainbow Green
229 Reflecting Algae
236 Deep Aqua
242 Juniper Blue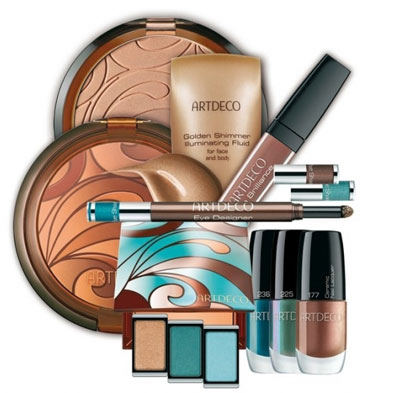 For lips, there are two shadows of persistent gloss:
23 Brilliant Sweet Candy
61 Brilliant Sweet Raspberry
For the skin, there is an illuminating fluid Shimmer with particles of gold, spray-tan for legs, and a protective cream for the lips with a SPF 30.
The luxurious collection is sold at such prices: the shadows will cost approximately $7, and $25 will be for a bronzer powder.
Source of the image: Fashionison.