Powder is an important finishing step of daily makeup application. Ideally, every woman should have powder for application at home as well as a compact powder. What can powder do? Here are four reasons why we should not overlook this makeup product.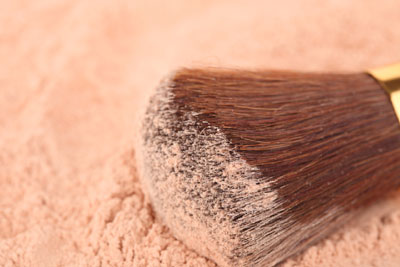 Powder improves face color and tone
You can use powder on top of foundation but also can apply it directly to bear skin if your skin is in good condition. In both cases the powder will make your skin look smoother and will hide uneven skin color.
Powder helps makeup stay on longer
Some makeup specialists even recommend use of powder before application of lipstick. Powder will keep the lipstick in place longer. A light layer of powder will also keep your blush on longer, as well as keep the lipstick or lipgloss line smudge-free. Eyeshadows and eyeliner will also look fresher.
Powder absorbs oil
Powder (mineral) does not contain moisturizing components. On the contrary, it absorbs oils and moisture. Therefore, powder will prevent appearance of oily spots, which make your skin shine. Powder is surely an irreplaceable product for women and girls with oily skin.
Powder helps fix makeup at any moment and in any situation
Wearing too much blush? Foundation is too dark and unnatural? Powder will fix it! Often enough, it is hard to pick the right colors for different lighting settings when applying makeup at home. Even some redness or a minor pimple will not ruin your important meeting or your mood in general if you have powder in your purse.
Source of the image: Photl.