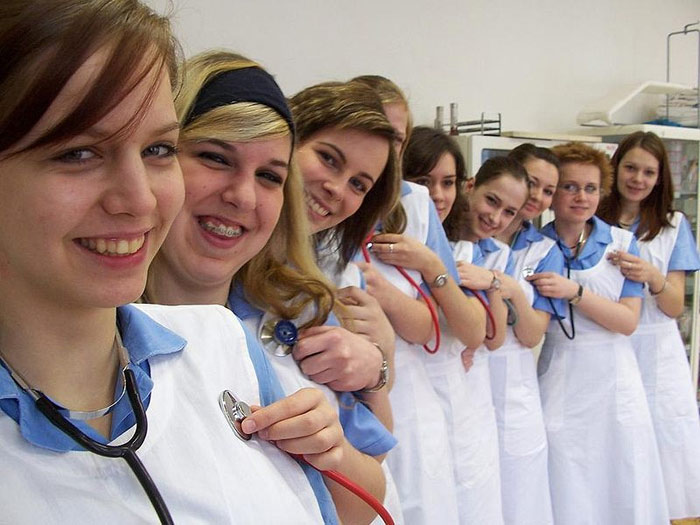 Image via Flickr by timefornurses
The medical field has seemingly infinite opportunities that are rewarding in both money and fulfillment. But what niche should you go into? There are many different types of midwives, but a Certified Nurse Midwife (CNM) acts as the central health care provider for women throughout most stages of their lives and can be one of the most exciting types. This means that you get to make strong connections with your patients, and share some of their most exciting times in their lives, like bringing a baby into the world. Hooked? Read on to see if Nurse-Midwifery could be the career for you.
What Do Certified Nurse Midwives Do?
From health education counseling, contraception management, gynecological care, prenatal care, and more, Certified Nurse Midwives link arms with women to help them progress to the next stage of their lives. They practice their work in public and private hospitals, and health care clinics around the world. As a Certified Nurse Midwife, you can expect duties like the following:
Counseling patients
Prescribing treatments
Caring for women through newborn care
Dealing with women from puberty through menopause
Managing care based on diagnostics
Treating women who are sick
Providing primary and specialty care
Why Should I Consider a Career in This Field?
If you love forming bonds with people and helping them through the big phases in life, this career could be for you. CNMs give people a sense of worth by providing wellness and preventative care. In addition to physical care, a CNM also needs to keep an eye on the psychological, emotional, and spiritual well-being of a patient.
This woman-centered care unit forms tight relationships with a tight-knit community of people that care for one another. A CNM will provide care for women and will always be on their toes whether they're using the skills they learned from their degree and learning new things while on the job. The field is creative and encourages a feminist approach with respect for others.
If the above isn't enough to keep your interest, CNMs make good money. On average, they make $95,732 annually.
I Love It! How can I Become a Certified Nurse Midwife?
Simple: get a master's of science in nursing and apply to sit for the American Midwifery Certification Board Inc. certification exam. Your bachelor's should be in a related field to prepare you for your courses to come. While classes in this field can be difficult, courses offered online give you the option to work from home and keep a job to pay the bills in the meanwhile.
Curious about what classes you might be required to take on your journey to becoming a Certified Nurse Midwife? A few of the basics include Health Care Policy, Advanced Reproductive Dynamics, Advanced Health Assessment, Well Women for Nurse-Midwifery, and more.
Whether you're tantalized by the thought of helping to bring babies into the world or you just love the one-on-one connections in Certified Nurse Midwifery, this field has a lot to offer. By getting your master's of science in nursing, you can be well on your way to a fulfilling career.