So many things can go wrong with your baggage, things damaged or crumpled because of faulty packing, powders or liquids spilling out all over your clothes, making you wish you had given more time and care to packing now that you have to deal with those trifling but bothersome problems en route. Here are some useful tips to avoid being victimized by your own baggage and take routine emergencies in your stride.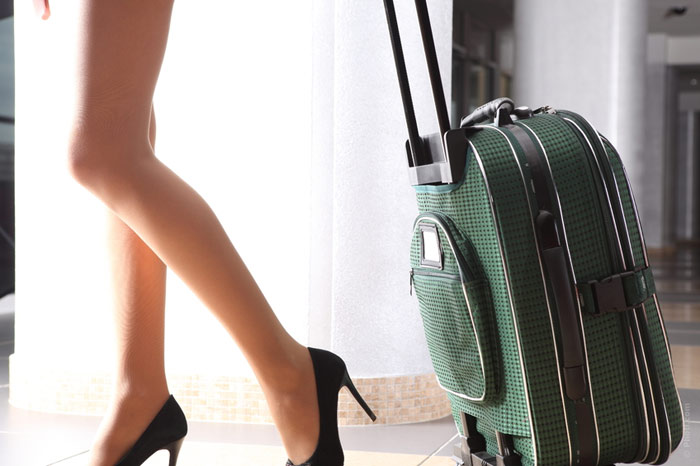 1. Make your baggage easily identifiable
Can you spot your suitcases at once from afar? It can make a lot of difference when you collect your stuff at the airport. So, be ready for the occasion – get baggage tags, label them with your name and destination. A happy touch is to tie some colored stuff like bright shoelaces or stickers to the handles to help you single out your items instantly.
2. Get several ziplock bags to pack your things in groups
Ziplock bags are ideal for grouping your camera or your tablet with their respective chargers and cords, so you can get at them at once; also, they will prevent cords lying about loose and getting caught in other things. A ziplock is good for keeping beverages apart from your other stuff, separating medicines and storing your keys and small things you will need when you get back home.
3. Pack colored clothes and shoes so as to prevent their getting stained
You don't want to find your light colored dresses and shirts stained during your journey out there, so the good idea is to turn them inside out before you put them in. Collect disposable shower caps from hotels and put them on the soles of your shoes when you pack them.
4. Pack your clothes rolled in compression bags
Another unwelcome irritation is to open your suitcase on arrival and find that all your clothes are badly creased and crumpled, so you have to do some ironing in order to look decent. To avoid it, get vacuum compression bags or packing cubes. Roll all your items of clothing, put them into compression bags, seal the bags and then squeeze them to get rid of air. This way is better than folding clothes because it leaves fewer creases and, incidentally, leaves more room in the suitcase. If you choose to use packing cubes, they will facilitate access to every individual item.
5. Baggage scales prevent last minute surprises
It's far better to get your baggage weighed at home before you leave to make sure you won't be charged overweight fees at the air terminal. The same goes to the flight back when you will probably be carrying souvenirs and other things you bought during the vacation. If you're getting close to the weight limit, think which of the heavier items you can buy at your destination instead of bringing them with you.
6. Hide your cash
It will never do to attract thieves with the sight of wads of money in your hand. Roll up bills and place them in empty beauty products containers – this way you can take money with you to a beach and on short trips without attracting undue attention.
7. Prevent spillage of liquids with tape
We made pretty sure that the cap on the bottle was screwed tightly, but things happen, and when we opened the suitcase we discovered the liquid had leaked – ugh, what a mess! Stronger measures are needed for these bottles. Before putting them in take off the cap or the lid, hold some cling-film over the aperture and screw the cap back over the film. Wrap the place where the cap edge joins the bottle with adhesive tape. Now you are safe with the bottle.
8. Powder cases won't go spilling contents if you use cotton wool
You certainly want your beauty products to remain intact when you get there. Eyeshadows and pressed powders need some extra care. To avoid spillage, insert a flat cotton wool layer between the lid and the powder.
9. Keep atmosphere in your suitcase fresh
It is especially important when your journey is a long one – the things in your suitcases can acquire a kind of a stale smell. You can keep them smelling fresh and nice if you put in a sachet of pot pourri, scented drawer liners, or fabric conditioner sheets.
10. Complete a vacation packing list
Buy a notebook and write headings on each page for all kinds of vacation you may want to have, covering weekend ones, long ones, vacations related to special places, seasons or hobbies. Then sit down for a brainstorming session and put down all items you guess you will need for each kind of holiday. Keep the notebook together with your passport, and when the time comes to get ready for the journey, you won't have to make a list of the necessities from a blank page and you will be less likely to forget something really needful.
11. Prepare hand baggage with an assortment of essentials
It may not be necessary every time, but when suitcases go astray and part of your baggage gets misplaced, you will be glad you collected the most important things in a suitcase you took with you. Mind you put a change of clothes there as well. Should your checked baggage be accidentally delayed, you won't be derailed by having to shop before you can meet your commitments or settle down.
12. Put smaller things inside bigger things
Some items have empty spaces (shoes come to mind first) – you can put inside some smaller objects like rolled-up clothing, socks and whatnots, making them easier to find and safer at the same time.
13. Use photocopies or e-books instead of thick guidebooks
Do you really need the complete version of the guidebook? If you do, download it onto your e-book reader. Probably not; then just make photocopies of the pages with the necessary information, and leave the bulky volume at home.
14. Opt for a light suitcase
When buying things in the store for the trip, consider all the possibilities. A flashy suitcase may catch your eye, but it may also look inviting to airport thieves. Moreover, an impressive hardshell affair gives you extra kilos you don't need. Besides being cheaper, a lightweight suitcase may actually serve your needs better.
15. Be ready for any situation that may come up with a set of necessary things
You may not need them very often, but they will prove very useful in certain unexpected moments. Here's a list of small things that don't add much weight but may stand you in good stead in a series of mini crises: some string, safety pins, a sewing set, scissors, blank baggage tags, a LED torch, tissues, cable ties, a small padlock, ear plugs, a bath plug, a couple of pens, tweezers, a small calculator. Being an experienced traveler, you can augment the list of necessities. Keep them ready in a ziplock bag.