Kate Middleton's resplendent wedding looks surely deserve to be perpetuated in more ways than one, and the Franklin Mint thought up another idea how to do it – by releasing a doll. The Kate Middleton Bridal Doll is a commemorative souvenir made with the closest attention to every single detail of the wedding outfit.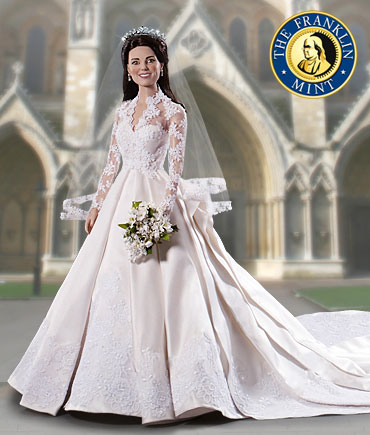 That includes the coruscating Scroll Tiara, in the royal family since 1936 when George VI presented it to the Queen Mother, that the bride was wearing courtesy of the Queen; the dress with the satin train, up to the handicraft of the floral lace ornaments on the bodice. On the doll's hand can be seen the two rings – the sapphire engagement ring and the new wedding one. The exquisite bouquet is in evidence too, and a display stand is also furnished.
The Bridal Doll's price tag reads $295. It will be unveiled in the summer but can be pre-ordered now, together with an authenticity certificate.
Source of the image: Thehairpin.