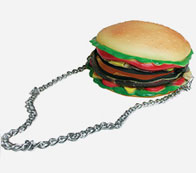 Do you like fast food? Do you eat it often? And how do you feel after having eaten fast food? Do you have a feeling of guilt? You were trying to lose those excess pounds, but you decide to have a meal in one of the fast food "restaurants", simply because you are lazy to prepare food today or it's Saturday and you want to go out somewhere. When you're full after the "fast" meal, the last thing you want to see is the food, such as that you've just eaten. And can you imagine wearing it as a part of your wardrobe?
Forget about leather! Say no to fashion canons! Throw all your shammy out! As it's time for something new. Designers at Hannah Havana have used all their creativity and after a fast lunch at some restaurant created brand new accessories for women – vinyl bags looking like fast food – a burger bag, a hot dog bag and a chicken leg bag.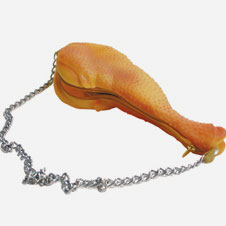 Looks funny, but what should it be combined with? Could you wear such a bag at the office? And just outside? What about a date? No way! Otherwise people would think you're crazy. It seems to me (forgive me my conservatism), it would be nice only for a kid or be a great accessory for the Halloween party – if it goes well with your Halloween costume, of course.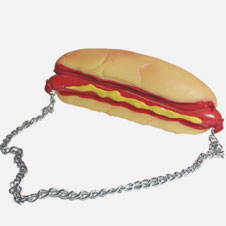 But you would need a really good idea to use these "tasty bags". If you decide for it, each of the bags costs about $45. Anyway, have a nice Halloween and better without these bags.