The British supermodel, who "blew up" the fashion world in the 60s of the last century, Lesley Lawson, aka Twiggy, decided to release her fragrance only now, when she is 63 years old.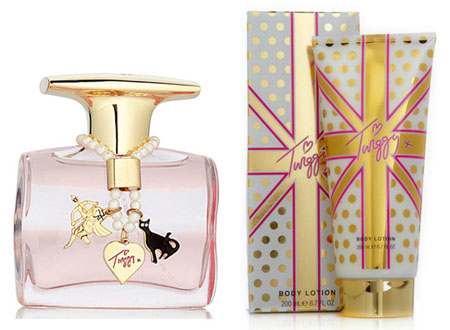 This is the first fragrance from the celebrity – summer 2012. Twiggy is still popular, she is now actively engaged in social activities, writing articles about the style for aged women. But her greatest success can be attributed to the time when she was a model. She was perhaps the first one who demonstrated thinness on the catwalk, and thanks to whom skinny models became a fixed standard in the world of fashion.
Twiggy worked on her first fragrance for two years. The result is a chypre floral-fruity composition. The fragrance opens with fresh bergamot, peach and juicy golden pear. The heart notes are the white flowers of jasmine, gardenia and orange blossom. The base is composed by smoky musk, amber and patchouli.
Twiggy decorated the bottle of perfume with a golden cap and three pendants that symbolize the celebrity's favorite attributes: a black cat (bring good luck), a heart (with the name of Twiggy), a cupid (who lights love).
The fragrance will be released in the form of Eau de Parfum (50 ml) and a body lotion.