Not only vampires are stimulated by the smell of blood – Italian perfume makers believe that people will also develop a liking for the liquid that drives us through life as they launch a line of blood-based fragrances.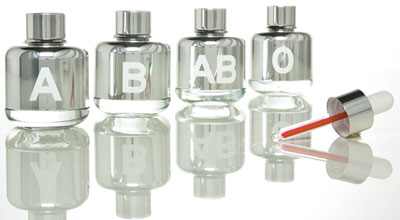 The new fragrances known as Blood Concept include four scents – A, B, AB and O – all with a blood-inspired metallic note at the heart.
In A the metallic scent is set off by whiffs of nature like green garden, tomato leaves, basil and star anise. B is more spicy with black cherry, red apple, pomegranate, artemisia, and pepper elements. It is also woody and carries a touch of black tea.
AB's components include aqua, cedar wood, aldehydes, aluminium, pebble, and slate.
O has blood note combined with raspberry, rose hips, thyme, cyperus esculentus, leather, birch and cedar wood.
Blood Concept is advertized as a significant side-line to break out of the bonds of the usual range of vanilla-based perfumes. The breakthrough decision to make blood the heart note of the new scents was made due to blood being the part of the human body we know most of; it carries plenty of secrets and was referred to by the spokesperson as "vivid and fascinating liquid that flows in our veins."
Makers expect that the new series (which come in 40ml bottles with a dropper) will enjoy the public acclaim after they were unveiled at a recent perfumery trade show in Milan.
Source of the image: Newslite.