This trend was created by the famous makeup artist, who had been working with such eccentric stars as Annie Lennox, David Bowie and Steve Strange. It is called face lace. It is rather simple to reproduce this trend on the face, and it does not require a lot of money and the skilful hands of a professional makeup artist.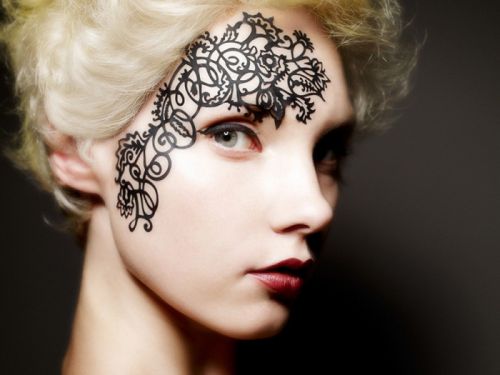 Lace ornaments are applied in a matter of a minute and can be used repeatedly. This trend is ideal for the girls, who want to look fashionable without spending a lot of time and money!
Face Lace mask applications are the invention of makeup artist Phyllis Cohen. These masks could be seen for the first time at the Fall-Winter 2012 show of the Corrie Nielsen brand.
Phyllis says that face lace is a magic response to the desire of many women to create artistic make-up at the level of a professional.
One can be sure that even if you do not dare to appear in the streets of the city with this makeup, you will look perfectly well at a Christmas party!