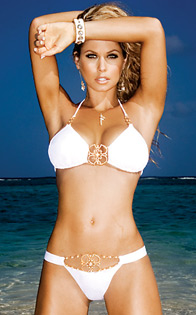 Swimwear for the 2007 season offers a fresh new interpretation of colours, prints, textures and details for you, beauties. New stylistic approaches may be seen in silhouettes, prints, combinations of colour, jewels and textures. One such approach is the expanded use of two or more contrasting prints in the same suit, making an incredible statement of mode fashion.
Swimwear designers are flourishing in a season of new colour beginnings, using surprising neutrals with innovative corals, yellows, limes and purples to create a spring and summer bloom. Tarragon is a freshly cut stem to the blossoming shades of sweet Strawberry Ice, warm Golden Apricot and violet infused Hollyhock. Café Crème is the rich, creamy contrast to the serenity of calming Sky Blue or the deliciousness of refreshing Grapemist. The newest neutral for spring is found in glimmering Opal Gray, providing a background to spring's multifaceted, bright colours that can make even the most basic silhouette come alive.
The transformation of swimwear, as the key element of your personal beachwear wardrobe, continues to gain acceptance with today's sophisticated woman. Designers continue to offer more accessories for their swimwear collections. In the past a designer might be content offering a pareo as a cover up for his or her collections. Today the discriminating woman can find a plethora of coordinating beachwear to accessorize her swimwear; including sundresses, blouses, pants, skirts, bags, shoes and jewelry. Multiple influences are invoked to create a wide palette of swim and beach wear for a dazzling beauty.
To achieve the desired appearance and finish of their collections, designers have incorporated the fashion elements, as noted above, into their 2007 swimwear collections. And these elements will flow over into their accessories to create a very personal wardrobe for the discerning and beautiful woman.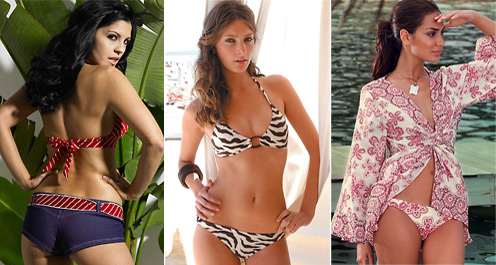 And to be able to wear all that without any self-consciousness, get yourself a bikini body!
Source: swimwearboutique.com