A new fashion season starts exactly after the Christmas rush with the publishing of February issues of glossy magazines. One of such magazines, British Elle, has chosen Anja Rubik to lead us into the new fashion season. An impressive photo shoot is published on a dozen pages of the latest issue. The blue-eyed Polish girl delivers the ABC of spring fashion to the readers, demonstrating the iconic items of the season, personally selected by their authors, who are considered to be major artists of modern fashion.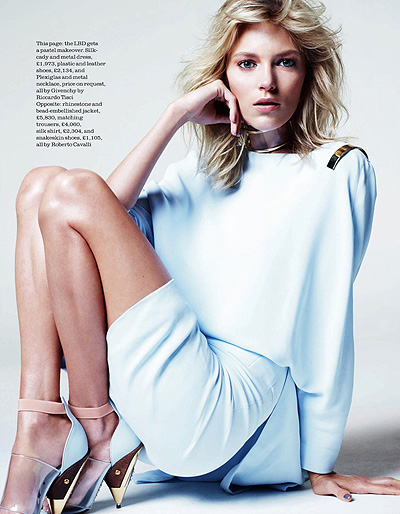 It is the item of clothing rather than the trend that the editorial team accept as the beacon of fashion. It means that we will look at spring fashion not at the angle of "refined femininity of the 1950s, a strip and brilliant colored skin", but from the perspective of "a bustier with a lush skirt reincarnating the invention of Christian Dior in Raf Simons' garment, a striped pullover by Tom Ford, executed in the contrasting combination of black and red colors, and the classic Burberry trench coat, made of leather with a metallic azure brilliance." And this is just the beginning!
The pages of the issue refresh in our memory everything we saw at the catwalks in September: bohemian chic by Eddie Slimane, who brought back the broad-brimmed hats, blouses with lace cuffs and men's tuxedos from Yves Saint Laurent's archives; an erotic drama, composed by Sarah Burton in the honeycomb mosaic; the 21st century image of a Geisha created by Miuccia Prada, and other items from the spring-summer 2013 wardrobe. Welcome to the new season!